Take the mystery
out of
retirement
Financial Advisors to Help You Finish Well
The Confidence You Desire
The excitement of retirement
raises a lot of questions
Retirement's not a new concept.
But it is new to you.
Your next chapter shouldn't feel like a big mystery. And it shouldn't be a source of anxiety or dread.
You need a financial advisor team you can trust… and a plan that leads to a meaningful future. Imagine using your wealth in a way that aligns with your deepest values and makes life better for others. Imagine how great it would feel to finish well.
Sound good? Then stop imagining and take the practical first step toward a meaningful future.
If you have any questions, visit our FAQs page.
Christy Capital

offers the advice and services
you need to finish well

Estate & Charitable Planning
Insurance/Annuity Products
Your plan for finishing well
Everything we do is built on relationships. So let's meet. Tell us all about you–your history, your relationships, your dreams and your assets. As a christian financial advisor, we'll gladly answer any questions you have about us.
Learn more about us
.
Working together, we'll tailor a plan that reflects your deepest beliefs and biggest hopes. Then we'll implement that plan, carefully monitoring it, and making necessary corrections along the way.
You'll navigate retirement with the confidence that you have enough. Even better, you'll have a clear purpose and be positioned to invest in the causes that matter most to you.
The 3 Biggest Questions You Face
in Preparing for Retirement
Get 3 Video Trainings in 3 Days
Answering the three biggest questions you'll face:
1) Do I have enough to retire?
2) Am I personally ready to retire?
3) How will I spend my time?
Leave a legacy

that aligns with your beliefs.
In unpredictable times and with constantly changing laws, converting retirement savings into regular retirement income can be confusing. Instead, be confident knowing what assets you need.
Most people fret about retirement. As a fiduciary financial advisor, our clients enjoy peace-of-mind knowing they'll have the assets they need for the next chapter of life.
The best retirement isn't "from" work. It's "to" new challenges! We help our clients strategize ways to invest their resources in the things that matter most.
Your trust is the only asset that matters.
As financial advisors we work exclusively to keep that trust.
You might be wondering,"Why should I trust Christy Capital?"

Two reasons:
We're fiduciaries. That means when it comes to your money, your best interests determine our recommendations, 100% of the time. We'll never strong-arm you into mutual funds or financial products. We're here to figure out your needs and bring the right options to the table.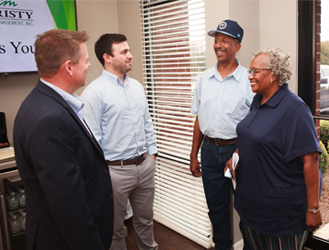 Since 2005 we've helped 1000s of people ease their uncertainty, get answers to their biggest questions, and start their next chapter with confidence. That trust means more to us than anything.